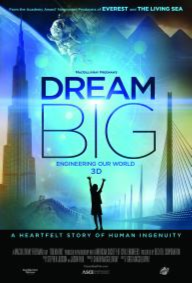 Join us for a viewing of Dream Big 3D: Engineering Our World, at California Science Centers IMAX Theater.
DREAM BIG 3D brings today's greatest engineering marvels to the giant IMAX screen. From record-reaching skyscrapers to bridges soaring above the clouds to giant tunnel-boring machines navigating beneath our cities, experience the massive scale and forces of nature that challenge their designers. Discover how imagination and human invention — even failure — turn ideas, dreams, and human needs into reality. All around the world engineers are pushing the limits of ingenuity and innovation in unexpected, amazing, and forward-thinking ways. The film, together with its outreach programs, tells the story of how engineers use science and technology to build, invent, design, and shape our world. Dream Big 3D is a MacGillivray Freeman film in partnership with American Society of Civil Engineers, presented by Bechtel Corporation.
Where: California Science Center IMAX Theater, 700 Exposition Park Dr, Los Angeles CA 90037
When: Sunday, September 3, 2017. Film starts at 11 am. Meet at the IMAX theater by 10:40 am.
Tickets required, get them on-line in advance:
https://californiasciencecenter.org/visit/admission/imax-admission
Other logistics: the film is 40 minutes long; we will go to Grinder for lunch after the film. The California Science Center has several interesting programs, including Body Worlds and the Endeavor exhibit. You might like to plan to visit them after lunch or before the IMAX film. Bring cash for CSC parking (credit cards not accepted).